If you spend a substantial time on the internet and do not live under a rock, you probably have heard of Dhar Mann, a man who creates videos with a moral lesson. Whether you are an active follower of him or not, you must have seen his well-produced videos on social media platforms like YouTube, Instagram, and Facebook. You are free to have your thoughts about him but let us help you know more about Dhar Mann net worth and more, before you let yourself jump to conclusions!
One might wonder why or how this American entrepreneur gained so much fame from just videos. He is successful because he is a great storyteller. He did not have much experience in film production before starting his own production company, Dhar Mann Studios, but he was hardworking and determined. One of the things that sold him to the audience was that his videos were motivational. It addressed the insecurities of common people and helped them feel included, recognized, and respected. Moreover, he talked about real-life issues like racism, body shaming, and classism that appealed to the youth. His 4.7M followers on Instagram, 1.2 million followers on his studio page, 28M followers on Facebook, and over 30 billion views in total are testament to the fact that the man has achieved true success.
About Dhar Mann
This American creator was born to emigrant parents, Surinder Mann and Baljit Singh Mann, on 29th May 1984. His real name is Dharminder Mann. The Manns own a taxi cab operator based in Oakland, California, called Friendly Cab. Besides, since 1980, they have owned many regional real estate firms.
He grew up in a one-bedroom apartment in the Bay Area. His parents were mostly busy managing their company, so he grew up mostly by himself, but that did not prevent him from having a close bond with his parents in his adulthood.
Mann pursued political science and economics at The University of California, Davis. He then started a real estate management company. Furthermore, in 2008, he started an opulent transportation company, and before he was 21, he was running three offices with more than twenty-five employees working for him. But this did not go smoothly in the long run, and he hit bankruptcy in 2014.
Details About Mann's Career
Despite failures, Dhar Mann made a comeback to business with LiveGlam, a beauty company that he started running with his then-fiancé Laura Gurrola. He focused on growing and expanding the company, and by 2018, the company was generating an eight-figure annual income. The same year, 2018, he found Dhar Mann Studios, which proved to be his biggest and most profitable venture. His videos feature protagonists that are in natural circumstances but are soon faced with a problem, usually due to the prejudices and bigotry of society. However, his videos end on a positive note with the problem getting solved and the viewers learning an important life lesson. Through his inspirational videos and lively content, he has won the hearts of many and proved that hard work pays off.
Dhar Mann Net Worth
For someone that had seen failure at such young age, you wouldn't think he's going to be that successful financially, but Dhar Mann net worth of over $150 million proves that success is gained by your work and patience and not luck. He earns from his beauty brand LiveGlam that he co-runs with his partner Laura Gurrola, his studio company Dhar Mann Studios produces daily content, advertisements, and sponsorship through his content and had previously earned from his real estate business. He saw potential in the content-creating industry and used it to turn his life around in a really impressive way.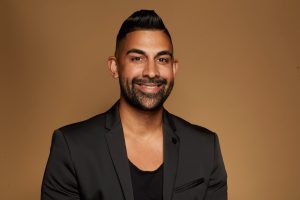 Controversies Surrounding Dhar Mann
Back in 2012, Mr. Mann started a company, and that company used to be for growing weed. That weed was used for medical purposes. And that got a lot of fame. Eventually, the business started to bloom very soon. The limelight took over him.
Soon, his business got to be known as The Walmart of Weed! Quite surprising, right? But it happened, and this took a toll over. The business got over, but Mr. Mann was not in a good situation at that time. He got into really worse debts which almost felt irrecoverable. Not even that, he got reported for growing those medical marijuana leaves in chemically sand or water or soil.
When he reached the age of 30, he finally got over this schemed case and got his way out. He thought he had to pay a lot of bucks to get out, but he got rid eventually. Through that phase of time, he is known to have said that it was the lowest that could have gone in his entire life.
One business taking such a toll on him and the partners leaving over that with just a little share made it worse!
Final Thoughts
Seeing that you have made it this far in the blog, one can hope that you have seen how despite hardships and debacles in his career and personal life. Dhar Mann has shown us that creativity, dedication, and untiring efforts can lead you to success. Many do not consider fame or money a real success. But Mann has gained both and is continuing to improve his work. We hope you have read something useful here today. Whether you will like it or not, we hope you check out his videos on his YouTube channel, Dhar Mann, the Facebook page that runs by the same name, Dhar Mann, and his Instagram account, dharmannstudios. We hope that we have answered your questions regarding this content creator and entrepreneur. Do let us know what you thought of this blog in the comments!