With over 27 million total cases, India is one of the worst-affected countries during the pandemic. This has adversely impacted the tourism sector and travelers planning to visit India. Several travel restrictions have been implemented that tourists need to know about before flying to India.
In this post, we'll discuss travel restrictions to India and how you can travel India safely during these times. Let's delve in.
Travel Restrictions to India: Are Flights Operating?
The Directorate General of Civil Aviation (DGCA) stated that the Central Government had extended a ban on all international flights to and from India till June 31, 2021. Earlier, this ban was imposed till May 31 but was later extended for a month amid the rising COVID-19 cases. While special and scheduled flights have been operating, the majority of commercial flights have been suspended.
Several countries have imposed a ban on flights to and from India. These include Singapore, UAE, Saudi Arabia, Oman, New Zealand, Kuwait, Itali, Iran, Indonesia, Hong Kong, Germany, France, Canada, Bangladesh, and Australia.
However, the country still has bilateral bubble agreements with 28 countries. These include the US, the UK, Canada, Germany, France, Japan, Iraq, Uzbekistan, the UAE, Ukraine, Tanzania, Seychelles, Rwanda, Qatar, Nigeria, Oman, the Netherlands, Nepal, the Maldives, Kuwait, Kenya, Ethiopia, Bhutan, Bangladesh, Bahrain, and Afghanistan.
Many countries which had earlier imposed a ban to and from India have lifted it as the COVID-19 situation seems to improve in the country. It's recommended to check with your local authorities whether flights are flying to India and the respective guidelines. In most cases, you'll be asked to produce a negative RT-PCR report of fewer than 72 hours. Some flights may also make vaccination reports necessary.
Which States in India Are Accepting Travelers?
If you're planning to visit India to see the majestic Taj Mahal or bustling Old Delhi, there's bad news for you. Of 29 states in India, only eight are accepting travelers. All the other states have imposed a lockdown and aren't allowing any visitors for traveling and tourism purposes.
That said, these are the eight states where you can travel to during this current lockdown situation.
Bihar
Chattisgarh
Goa
Haryana
Himachal Pradesh
Jharkhand
Madhya Pradesh
Telangana
In addition, you can travel to three states only after registering on their official website or app. Here are the states with their respective apps.
Chandigarh (UT): COVA Punjab app
Punjab: COVA Punjab app
Andhra Pradesh: Spandana app
Additionally, there are several state-to-state travel restrictions to India that you should be aware of. For example, you can travel to Uttarakhand and Manipur without any restrictions. But if you're traveling from Chattisgarh, Gujarat, Kerala, Madhya Pradesh, or Maharashtra, you'll need to take a negative RT-PCR test. If you test negative, you're good to go.
If you test positive, you'll need to abide by certain protocols, such as quarantines. The protocols will depend on factors like where you're arriving from, your purpose of visit, and for how long you will be staying.
Travel Restrictions to India: Are Tourist Places Open?
Whether tourist places are open or closed is subject to the states' lockdown policies. Some states, such as Manipur, have not imposed any restrictions on the opening of tourist places. Whereas in Himachal Pradesh, various historical temples, monasteries, and other tourist places are closed.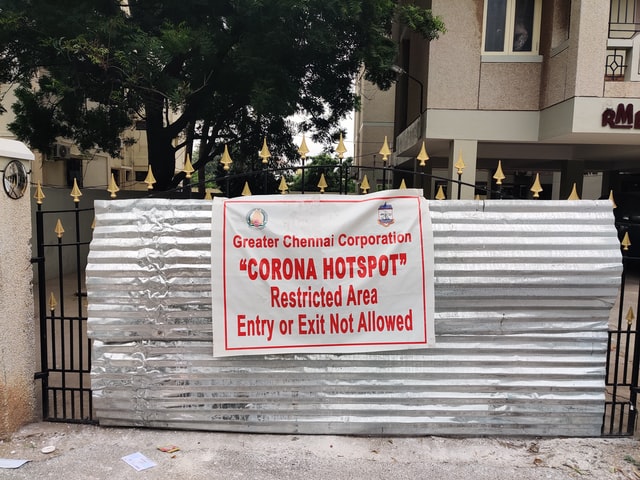 So far, there's not enough clarity on which destinations are open or closed. If you're planning to visit a state, be sure to contact the authorities if possible. You can also talk to locals through social media to get a clear idea of how things are running.
Travel Restrictions to India: Best Travel Tips to Follow
Since India is adversely affected by the pandemic, going there now may not be the best idea. But if you've made up your mind, follow these tips to ensure a safe and virus-free journey.
1. Always Cover Up
Wearing a mask is mandatory while traveling. You should always wear a mask when traveling not only to India but to any part of the world during these times. You never know who's infected. Sometimes, an infected person may not demonstrate any symptoms at all but can still transmit the disease. So, always have a mask on when traveling.
2. Opt for Contactless Travel
Thanks to the advancements in contactless technology, you can now travel the world without coming in contact with humans or surfaces. Ticket booking is available online, and you can check in and check out using kiosks. Several airports have enabled QR code scanning to eliminate manual check-ins.
3. Avoid Touching Surfaces
Don't touch surfaces, especially the ones that are used frequently, such as door handles, stair handles, etc. Virus particles can reside on these surfaces for a while and can still be active. So, it's better to keep your hands away from such surfaces.
That said, there could be instances when you have to touch something. Here's where hand sanitizers come into play. Before touching a surface, spray some alcohol-based sanitizer on it. After using it, sanitize your hands at least twice to ensure all the potential virus elements are eliminated.
4. Carry the Essential Supplies
Avoid visiting too many shops, as it can increase your risk of coming in contact with more people. You can do so by carrying the essential supplies with you. For example, you can carry dry food items so that you don't have to buy food during the journey. You can carry water bottles for the same reason.
5. Avoid Public Transport
Lastly, avoid public transport. While many states have ceased public transport till further notice, some states have resumed it. As a precaution, don't use public transport. If the travel distance is short, prefer walking. For longer distances, you can opt for taxis from renowned taxi providers like Uber and Ola.
Conclusion
COVID-19 has made traveling a nightmare, but if you take the right precautions, you can enjoy doing road trips around the world without putting yourself at risk of getting infected. While the situation of COVID-19 in India is bad, several states with controlled transmission are allowing visitors, but with some restrictions. So, if you're planning to travel to India, stay updated with the travel restrictions to India.