Spyware is basically spying/monitoring or stealing software that could be downloaded onto your device or computer in order to gather your information or track the activities by you without you having any knowledge about what's happening. Moreover, this information of you is then sent to the third party source by the developer of the spyware. Spyware, most of the times, is used to keep a look at your internet surfing habits, and this information is used in association with adware in order to target particular advertisements that match your tastes.
However, spyware could be utilized by someone in order to monitor your activity more than only looking for your habits. Moreover, spyware can also gather information depending upon the developer's purpose, about the following:
Passwords
Chat programs
Credit card numbers
Anything on the hard drive
Keystrokes
Email addresses
Word processor documents
Web pages visited
Cookies (little packets of information stored in your internet browser to identify you to websites that you visit)
Download habits
Because when it comes to spyware, it can collect a lot of data & information about you, especially your personal stuff, and forward it to the other destined source, and guess what, you won't even know about what has been happening around. And hence, spyware is a big threat when it comes to your content privacy as well as its security.
Moreover, your important information in the wrong people's hands via spyware could be used for various dangerous purposes, for example, fraud or identity theft. Also, the personal data gathered by spyware or the confidential information collected about you might even be sold for money by the developer of the spyware to third parties.
Moreover, the part about it that concerns you the most is that you don't have any control over this and what the spyware is monitoring and where your data/information is going.
And this is the reason why most of the people opt for removing spyware from their devices and computers and carry out appropriate actions in order to prevent spyware to get into their phones or computers in the future as well.
How Spyware Gets into Your Personal Computer?
Well, when it comes to Spyware, it gets entered into your personal computer while you are downloading some other programs, mostly free software (which is often used for trial purposes). This process is named bundling in which basically, the spyware developers/producers are paying the free software producers to conclude the spyware in each of their products.
Moreover, these bits of help are financing the freeware which you have been downloading in order to not having to pay for the same. And hence, when you are done downloading any of your needed free software, the spyware application that comes included with it also gets downloaded with it. It might have been mentioned in their licensing agreement, but we hardly read any agreements when it comes to downloading a freeware. Is it correct?
Moreover, the spyware developer company is always looking on you to immediately press the "Ok" button on the pop-ups without reading their lengthy agreements. And even if you do read it, the spyware installation might be provided in a really hard to go through manner so that you don't even realize that you got the spyware downloaded.
However, there are times when even in the agreement, the spyware is not mentioned. And hence, most of the times, it hardly matters if you read it or not, you won't be aware enough of it getting downloaded. Other than that, the Spyware can also be downloaded or installed onto your personal computer by only visiting certain websites. Yes, it's true!
There are times when you aren't given the allowance to enter a particular page of a website and you are prompted to install or download a particular application in order to see the website properly. This includes viewing a greeting card or watching a video or even to hear any song and more on that particular website.
Also, it might be the case that the application may not be having anything real to do with, but the website's only purpose could be the dangerous spyware instead. Moreover, another trick used by the spyware developers is to make you download or install their dangerous spyware via ActiveX controls (which is basically programs which run in the internet browser).
So, when the ActiveX controls start loading, your internet browser might ask you that if you want it to be installed. And if you click the "No" button it will be better only for the certain page you are currently on. So, each time you just load some new pages, your internet browser will be asking you this again and again.
However, there are so many people who simply give up and just click the "Yes" button when the previously mentioned thing takes place a few times, unaware of the fact that they are not just agreeing to a few points but downloading the spyware instead.
Wanted Spyware:
This might also be the case that you actually make a choice of installing the spyware onto your personal computer for any use of your own. Other than that, this may also be utilized as a tool of surveillance just in the case if you have employees or children in order to track what's going on on your personal computer, especially when you are away from it. Also, the wanted spyware could be purchased and installed/downloaded like many other softwares and it will help you track things, for example, keyboard strokes, visited websites, used programs, and more for your reference later.
Moreover, the information from this kind of spyware, when it is utilized as a supervision tool, doesn't get transferred anywhere. But this can be brought up from the same PC later on by employers or parents in order to check up on the activities by other users.
Best Apps to Remove Spyware from Your Android phone
Spyware is basically named as software stealing personal data or information from our mobile phones and transmitting the content to the dangerous malefactors' servers. Also, Spyware has the ability to operate in various different modes such as, discreet and annoying. Moreover, the Discreet spyware works mostly in the background and this spyware tries to keep its presence disclosed in the system. Also, the main task of it is to collect information.
On the other hand, Malware mostly annoys you by showering you with tons of advertising messages and these messages and notification then significantly slows the operation of the phone. Moreover, each time you click on any of these advertising banners accidentally, you are helping its developers to earn tons of money.
Why Spyware could become Dangerous?
When it comes to the spy apps, the biggest danger of them for Android is, they keep a look at the devices of the owners. Moreover, with the use of spyware, some invaders and programmers are able to steal anyone's private information and data such as:
text of your messages,
passwords as well as the other authorization data from the browser,
call history,
GPS coordinates,
Audio recordings of telephone conversations.
photos and videos,
So, if you have been thinking that you don't have anything special on your device, for example, SMS, you can find them helpful rarely, but you hardly forget of using mobile banking. And therefore, an app like this only requires extracting the OTP (one-time password) from an SMS in order to authorize the bank online and to make your account in the bank available to third parties.
Other than that, the various social networks pages or e-wallets, access to corporate sites gets stolen in a similar manner which is via sent in a message password.
Moreover, call histories that are defrauded are mostly included in paid databases which are used for sending the commercial SMSs. And hence, if you are someone who receives a lot of spam messages, there is a possibility that someone from your list of contacts has got hacked via spyware.
Well, there is really no requirement to discuss the case with multimedia as hardly anyone wishes his or her private life photos or videos to get shared online especially without his/her permission. This is even serious when it about their very personal or nude pictures. Malefactors are more likely to ask for a lot of money for material when it comes to sharing "juicy" details.
Moreover, no one guarantees to anyone (no matter what) that he/she will get rid of the stolen information or files from someone's phone or other personal device galleries after they receive the demanded payment.
How to find out if Your Phone has any Viruses/Spyware?
Well, to find out if your phone has any kind of viruses or spyware is definitely not an easy task without the use of an antivirus. Moreover, below-mentioned are a few indirect signs telling you that you have got a virus on your phone:
You will notice the reduction in the battery operation time of your mobile device,
You will find out about the disappearance of your mobile internet traffic,
There will be the development of advertising messages and notifications in the gadget interface.
So, it doesn't matter if you spot just a few of the above-mentioned list symptoms on your phone, you will have to take some action right away and preferably of a serious kind.
How to Eject Spyware from Android?
In order to eject or remove spyware from the android phone, the most basic way is considered to be formatting the internal memory with the synchronous hard reset of a mobile phone. But there are some cunning types of spyware which are able to survive those actions as they have gotten into your system files already.
And hence, if you go ahead and decide to carry out a reset as well as formatting, once the first device gets restarted, it's way convenient to scan it using an antivirus.
Top 4 Spyware Removal Apps for Android
In order to deal with spyware, one easy & most known way is scanning your mobile phone for any viruses. However, there are various apps available (both paid and free) when it comes to the Android platform. But, as per the test results, the following are the most successful ones used for the removal of modern spyware, especially in the category of the best apps for teenage girl:
Malwarebytes Security
Incognito – Spyware Detector
Kaspersky Mobile Antivirus
Avast Mobile Security
1. Malwarebytes Security: Virus Cleaner, Anti-Malware
Malwarebytes Security, which is basically a free anti-spyware app, is targeted to remove Trojans, spyware along with other malware. Malwarebytes Security scans the internal memory of the device as well as SD card for any viruses. Moreover, it runs a security check in one window.
As per the principle of Malwarebytes Security operation,  you first select the path to files, then run the scanner and then click on "Delete", just in case if it detects something.
Moreover, the Audit works a bit different where a built-in feature examines the permissions of all apps that are installed. Also, it's really appropriate in order to control access to the camera, internet or messages. And hence, this is a great option for Android for removing spyware.
Bonus Malwarebytes Security Feature: This spyware remover audits the incoming messages automatically for any suspicious links. It blocks access to the URLs that are dangerous and hence, prevents your device from the download of any viruses as well as malware apps.
2. Incognito – Spyware Detector and Phone Security
Incognito is an anti-spyware app for Android which has been highly specialized. As a matter of fact, Incognito comes equipped with only two functions which are to find a file which is dangerous & demolish it.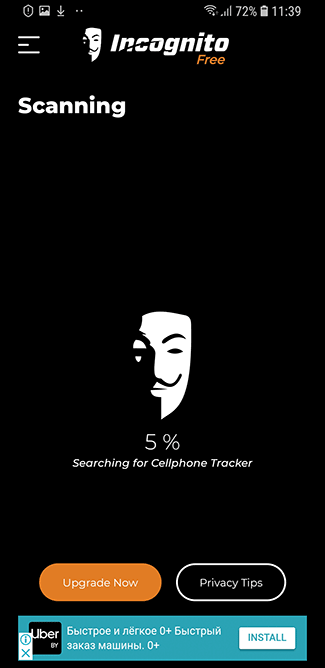 However, when it comes to antivirus databases, it's important that they are enough updated often. Also, while this program operates in the background, it must not waste the resources of your device. And hence, it's a lot helpful in order to have it all at your disposal just in case, for example, you are downloading a virus.
3. Kaspersky Mobile Antivirus: AppLock & Web Security
Kaspersky Mobile Antivirus is a virus guard as well as a spyware removal application for Android. However, in order to deal with spyware or malware, Kaspersky Mobile Antivirus doesn't come with a specific feature. Moreover, the protector at its background as well as standard scanning can help in detecting it easily.
Other than that, you can see an option named as Secret contacts in the menu in order to store the phone numbers or chats, which are the most important, protected using a password.
4. Avast Antivirus – Mobile Security & Virus Cleaner
Avast Mobile Security is another well-known spyware detector when it comes to Android as well as other mobile platforms which are able to detect or find Trojans or spy apps.
Also, standard scanning detects and finds malware, and the app via a feature removal gets free from it forever. Moreover, in the background, Avast consistently works to prevent your device from any spyware download.
Bottom line:
The antiviruses as well as the anti-spyware for android apps that are mentioned above, for Android, could be helpful for you in order to pause/stop your device tracking. Moreover, the best way in order to protect your device is to stop the development of the previously mentioned cases.
And hence, it's best to avoid the installation of unknown programs, at least from the Play Market, when there is no urgent need. Moreover, try keeping your antivirus active while you are surfing the internet and it's suggested to never follow any links that are found in unknown messages.