In today's digital world, there are infinite ways of entertainment. Listening to music is one of the popular means of entertainment for many. There's no doubt in asserting that video song are preferred above the audio ones. Giving a life-like experience and enabling viewers to connect with the content, videos are the always top priorities for people of all ages.
There are plenty of ways through which you can watch videos, like live streaming on video apps and download it from any site. YouTube is one of the popular media for online videos. From songs, series, trailers, reviews, to comedy shows, YouTube has become the next-gen television. It is quite evident that you cannot download YouTube videos into your devices, and there are times you need certain videos on your smartphones or tablet. iTube is an amazing application that helps in downloading, converting, and optimizing YouTube videos into your smartphones and tablets.
What is iTube?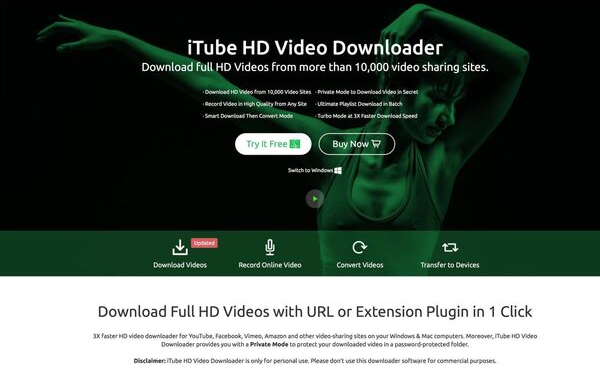 iTube is an Android application used to play and download YouTube videos and enjoy them offline on your Android device. This brilliant download assistant is completely free, and you can easily download video content from YouTube and stream offline.
iTube is not considered as a traditional YouTube downloader as its additional features and upgrades have made it a complete multimedia player. Its unique features and specifications have made it a great alternative to other music apps like Spotify. iTube works as a perfect galore to play your favorite videos even if you have no internet connection.
According to an iTube review, below are the three major advantages of this downloading App:-
Plays videos without adverts
Plays videos in the background giving you seamless listening experience
Plays videos offline in its original quality.
How iTube Works?
The interface of iTube is highly interactive and extremely easy, enabling you to navigate through the application to download your favorite videos. Take a look at what all you will find at the main interface of the application:-
Search Tool to search for videos according to their number of views, relevance, and playlists.
Bookmark tab to keep all your favorite videos just one click away inside the application.
Playback history to take you through the memory lane of your last searched videos.
List of videos aligned appropriately based on their genres.
Steps To Download Videos on iTube
Videos are downloaded when they are watched for the first time. iTube review also states that it helps in saving the bandwidth and data. The downloaded videos are sent to the requested folder on your device. Below are the proper steps to follow in order to download videos with iTube:-
Search The Video: Begin searching the video that you need to download by entering the name on the search tab. You can also search on the recommended list prepared by iTube.
Play the Video: Once you have found your desired video, play it to check whether the quality is appropriate to download.
Favorite the Video: After watching the entire video, click on the star button and add the song into a list of favorites.
Download: Click on the download tab of your favorite video in order to download the song. Select a storage place where you wish to save your downloaded video.
Listen Anytime Anywhere: Once you have downloaded your favorite video, it's time to stream videos online without any ads or break.
How To Install iTube App?
Installing the iTube application is quite simple. All you need to do is follow the below three steps carefully to get your favorite YouTube video downloading App on your Android phone.
Installation File: The first step towards installing the App is to download the installation file to your smartphone/tablet. The installation file can be downloaded from two sources. It can be either done from the official website of iTube where you can find APK file, or you can search for installation file on the browser to find the best site for downloading.
Enable Installation on Your Device: In order for the installation file to get downloaded on your device, it is important to enabling installation from unknown sources. You can enable the permission from the setting of your Smartphone or tablet. Without granting the permission, iTube installation APK wouldn't be downloaded on your device.
Open APK: Once the installation package has been downloaded, tap on the open icon to run the App. You can also search the installation package from your download folder to find the App. Once the application has been run, you will be able to enter the App and enjoy offline video watching.
Videos are undoubtedly the best means of entertainment. Whether it is enjoying your favorite comedy show or binge-watching a thriller web series, videos top the list of medium of entertainment. YouTube is among those popular video streaming application that has emerged as a next-gen television. With a myriad of videos from different niches, YouTube is an amazing Google product to watch videos.
As everyone knows videos on YouTube cannot be downloaded on devices, technology has paved the way for several software that can do the magic. iTube is a brilliant YouTube video downloader that comes free of cost. You can download your favorite Youtube videos in its original quality and stream it offline on your device. If you take out any of the iTube review, you will realize the quality and prominence of this download client among the users.
Why streaming videos on YouTube when you can watch your favorite video without the internet connection, download the iTube App to start watching video smartly.