Pixie cut has slowly been gaining popularity over the past few years. Sometimes deciding on the haircut to go for can be quite a dilemma. A Pixie haircut is a good idea if you want a short haircut to try out. The good thing about a pixie is that you can always grow it into other longer hairstyles like a bob.
The styling of the pixie may require some adjustments if you want to transit, but that does not mean it is entirely impossible. Some people shave their hair off if they want to grow out because the features of a pixie seem impossible to allow to grow out. Here are some tips to help you grow out a pixie cut without necessarily shaving your hair.
KEEP TRACK OF YOUR TIMELINE
You can't grow your hair overnight, so you have to be patient and plan your timing to grow your hair. The timeline may differ depending on factors such as how fast your hair grows out. You can decide on the best time to grow your hair depending on the length of time your hair take to grow out.
Please factor in regular trims to keep your hair stylish throughout the journey of growing it out. Take time to factor out some styles you will be trying out as the hair grows to the desired length because this will take time.
You can try out different styles as the hair grows out, depending on the length of the hair at different intervals. Generally, if you have a pixie cut, you need the patience to grow it out and set some realistic expectations. The features of a pixie are very defined, so the transition requires patience.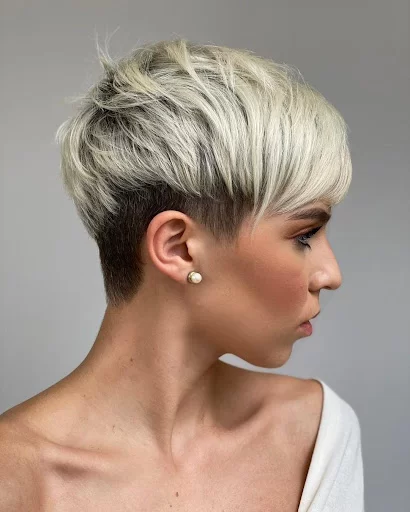 2. REGULARLY TRIM YOUR NAPE
When transiting to long hair, you may need to trim the name regularly if you want the hair to grow in a uniform length at the end of the process. If you leave the nape untrimmed as you grow the hair out, you may have a significant length difference with the hair on other parts.
. You should cut the hair enough to avoid getting a mullet-like look during the transition process unless that is what you want.
If your hair is fine, you can let it grow naturally without regularly trimming it. Trimming the hair all depends on your hair's density, hairline, and how fast your hair grows. If your hair is thick, you may need to do some reshapes in order to shape the hair for nice blending.
3. DISTRIBUTE THE HAIR BULK
You may need to redistribute the natural setting of the hair for different occasions as you try to grow out. Redistributing the bulk will help have the hair in balance. Ensure all the hair falls in place depending on your styling requirements.
It is essential to work with a style that accommodates the length of hair you have at the moment. It would be best if you took time to experiment with different kinds of your hair to see what works best for you as the hair grows out. Out of the experiment, you will realize that a particular part of your pixie requires more attention when styling than others.
4. TUCKING THE HAIR BEHIND THE EARS
The game is growing out your pixie changes when the hair behind the ears grows long enough. You can use the ears as a holding point for the extra length before deciding on your new style.
If your hair is very voluminous, you can use gel to hold it in position. As long as you are creative, you can try a limitless number of styles as you grow out your pixie.
5. MAKE STYLING PRODUCTS A PRIORITY
As you are patient to let your hair grow long enough to the length you desire, make use of styling products to make styling easier for you. Mousse and styling gel should be the top priority for you.
Avoid using cheap hair products since they may contain harmful products that harm your hair. Keep your hair moisturized to avoid a dry scalp.