Almost everybody who grew up in the early years of the twenty-first century has played Subway Surfers. It is a game that is widely known for its unexpected obstacles and how excited it makes you feel every time you 'tap to play. If you've been a fan of the game, you already know Subway Surfers Characters. But in case you haven't played the game yet and are curious, we have written an article to tell you all about the Subway Surfers Characters. So keep reading to know more.

What is Subway Surfers?
Subway Surfers has been a very popular game since 2012. It has attracted a lot of players. But in 2022, a decade after the game was launched, it was played by people of different ages.
The game is an endless-running mobile game. It was developed by Kiloo and SYBO Games and published by the same. The game can be played on Android, iOS, HarmonyOS, Kindle, and Windows phones. And it can be played only in the single-player mode since only one person is running.
The game's story is simple. The characters in the game are graffiti artists. They get caught tagging a metro station by an inspector and run to escape. All you have to do in the game is run from the inspector and his dog. While you are running, you collect gold coins which allow you to buy more things in the game. Players run on metro tracks and hence have to avoid running into metro trains and other obstacles. If they collide with any obstacles, the game is over, and they get caught by the inspector. One can revive themselves using 'keys' that one earns by completing certain missions.
There are multiple things a player can have in the game depending on their performance and the coins they earn. Besides that, you can unlock Subway Surfers Characters by collecting a few items in the game. And if you want to know how they do this, you have to read further.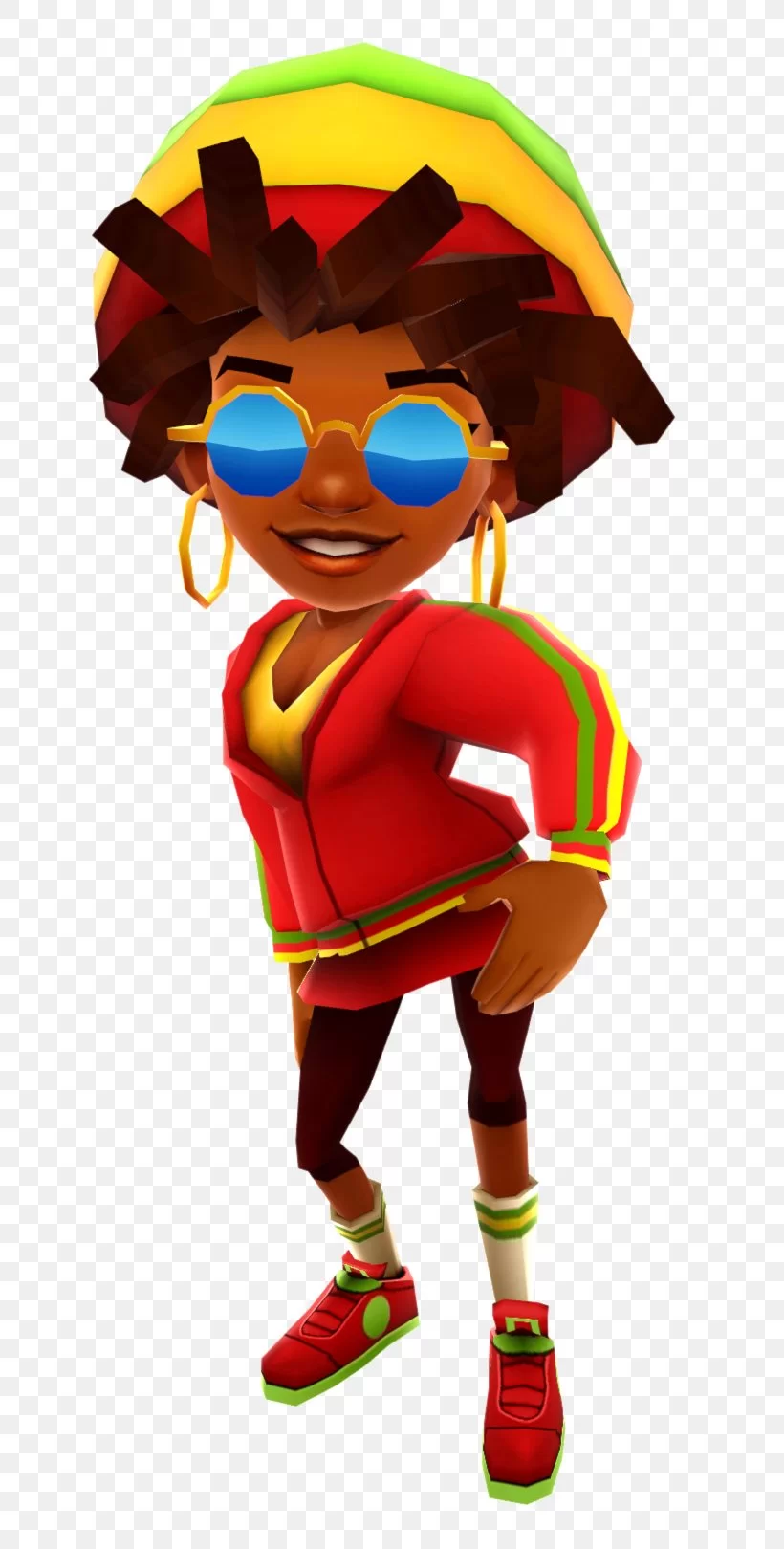 Subway Surfers Characters
Before we get into how you can play different characters in the game, it's important we introduce you to them.
Jake
So, he is the first character you see when you start playing the game. And for a while, he's the only one you can play. You also get a free 'dark outfit' which is basically Jake wearing a dark jacket.
Tricky
This is a female character. She wears glasses and has blonde hair. You need to collect three red hats in the game to play.
Fresh
He is a male character who wears glasses as well. You need to collect five hundred music players to unlock Fresh.
Spike
Spike is a male character as well. And as his name suggests, this character has his hair styled into spikes. You have to collect two hundred electric guitars to unlock him.
Yutani
Yutani is a female character and wears a UFO costume. Need to collect five hundred UFOs to unlock her.
Lucy
From the name, it is evident that Lucy is a girl. She has red and blue hair. You can unlock her by purchasing her with seven thousand coins. And these are the same coins that you earn in the game. So, this happens when you run away from the inspector and his dog.
Tagbot
This character is not human and looks more like a robot. You can unlock it by purchasing it with twelve thousand coins.
Ninja
As the name suggests, the character wears a Ninja outfit. He is a male character. And you can play this character by purchasing him for twenty thousand gold coins.
Tasha
Tasha is a girl with blond hair. Also, you can unblock her by purchasing thirty thousand gold coins.
Frank
Frank is a male character in a suit. He wears a cat mask. You can unlock Frank by purchasing him forty thousand gold coins.
King
This male character wears a makeshift cape and a paper crown. He can be unlocked with eighty thousand gold coins.
Zoe
Zoe is a female zombie character with purple hair. You can unlock her with one hundred twenty thousand gold coins and play.
Ella
Ella is a female character with dark brown afro hair. You need to unblock her with one hundred fifty thousand gold coins.
Brody
This is a male character with blond hair. You have to unblock him by purchasing three hundred fifty thousand gold coins.
Prince K
This character is a prince and is dressed in Gucci clothes. Moreover, you can unblock him by purchasing with nine hundred eighty thousand gold coins.
Miss Maia
Miss Maia is a female character who can be unlocked with one hundred keys. And since keys are hard to get, it is difficult to unlock her.
Dino
Dino is a character that, as the name suggests, looks like a dinosaur. Also, you can unlock him by just connecting your Facebook to the game.
The next group of characters is the ones who can be unlocked only by purchasing them with real money:
Manny, Olivia, Scarlett, and Tony are characters that you can purchase with real money. Thus, they are the less-played ones. Manny is a skeleton wearing clothes and is a special surfer. And Oliviais is a girl who is a Vancouver Surfer. Moreover, Scarlett is a special surfer like Tony, and she is also a witch. Tony is a guy who is a New York Surfer.
Besides them, Zombie Jake, Fantasma, and Bob The Blob are characters that you can unlock by completing tasks.
Final Thoughts
We hope to have given you an idea of the Subway Surfers Characters. And if you wish to know more, you have to play the game. Let us know which of the Subway Surfers Characters you found the most interesting in the comments below.