If one is to look for cases that have gone cold with time, they will find plenty. After all, police cannot do anything if there are no leads on a case. But people also see cold cases get reopened and the person responsible get arrested.
Multiple cases from the 80s and 90s have gone cold due to a lack of evidence or lack of leads. Hence, sometimes it takes years to arrest the criminals.
Whenever cold cases get reopened, it attains a lot of attention from the public. The case of Shannon Poteet is something like that. It went cold for quite some time, but now it has been reopened, and people believe that Lonnie Poteet, her husband, was the one responsible. If you want to know the case in detail, read the below article.
What is the Shannon Poteet case?
The Shannon Poteet case was the case of a twenty-one-year-old woman suddenly going missing in 1986. Before her disappearance, Shannon was a Native American woman who lived in Ferry County, Washington. After she went missing, she became a woman who had everyone's attention.
Shannon was a mother and a wife. She was married to her twenty-four-year-old husband, Lonnie Poteet, with whomever she had an eleven-month-old baby girl, Sara. Reportedly, the couple was moving towards a divorce. In this kind of situation, Shannon went missing for eight years and then was found dead in 1994.
Private information regarding cases is not really shared, but information regarding this one is made public via the show 'Cold Justice', which airs on Saturdays at 8/7c on Oxygen. People finally get to know what really happened to Shannon and if her husband, Lonnie Poteet, was involved with it.
Course of incidents
Shannon Poteet and Lonnie Poteet were married to each other and had a young daughter, Sara. The couple was not happy together and thus was going to have a divorce. Shannon was all ready to start a new journey as a single mother.
It is not known if she wanted to raise Sara by herself, but according to her lawyer, she definitely didn't want her husband to be around Sara. And the reason for this was Lonnie's temper. He apparently was very short-tempered, and Shannon was almost 'scared' of him.
While she was planning to divorce, she suddenly went missing. After investigation, the authorities found Shannon's car but not her. There was blood found in the trunk of her car, and the seat was pushed way too back for a woman who was only five feet in height. But since Shannon was still missing and there was no solid evidence hinting at anything, the case went cold for eight years.
In 1994, a hiker found the remains of a body in a forest which were later identified to be Shannon's. After almost a decade, the authorities were certain that she was dead, and thus they reopened the case to find her killer.
Why do people think Lonnie Poteet killed his wife?
There is no main reason as to why people think Lonnie Poteet killed his wife, Shannon. A series of witness statements have pointed towards only one person, and that is Lonnie.
Talking about witnesses, multiple people, including Lonnie's brother and a friend, have said that Lonnie was a short-tempered person. He would get angry about very small things. Not only that, Lonnie Poteet even had a history of turning physically violent when he was angry. These statements don't confirm him as a suspect but surely don't eliminate him as one either.
Shannon and Lonnie Poteet saw their Priest for marriage counseling before Shannon went missing. This very priest said that when asked about Shannon, Lonnie had said that she had run away with a boyfriend leaving him and Sara. Besides, this is also what he had told Sara when she asked questions later on. But this was absolutely different from what he told the police and investigators initially. The fact that he was saying different things to different people sounded very suspicious.
Witnesses & Their Opinions
Yet another witness who was also Lonnie's classmate in school had seen him driving Shannon's car the night she was most probably murdered. Besides that, Lonnie Poteet has not been described as a good man by his brother either. His brother, Jeff Owens gas said that his brother had issues, mainly anger issues. Also, one night after Lonnie was drunk, he said, "I can't believe I did it." Owens suspected that to be an almost confession of him possibly having anything to do with Shannon's disappearance. Thus, he asked Lonnie if he had done something to Shannon. As a response to that, Lonnie warned him never to ask him something like that again.
It was clear from all these that Lonnie Poteet was probably not innocent. The authorities have not confirmed Lonnie Poteet to be the one who murdered his wife but all signs point to him.
The blood found in Shannon's car was identified to be indeed Shannon's. Besides, Lonnie Poteet was seen driving her car the night she most probably died. And a lot of other witness statements also point toward the fact that Lonnie was most probably responsible for what happened to Shannon. If you want to stay updated on this case, follow the show Cold Justice on Oxygen.
Final Thoughts
Cases like that of Shannon Poteet give us hope that maybe one day, all criminals will get their death sentence. But in the end, we can only hope. We really hope that the right person responsible for Shannon's death gets their punishment.
The perfect keepsake to commemorate law enforcement heroes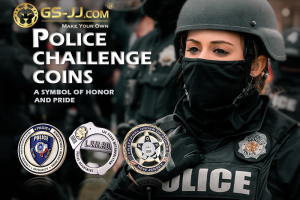 Across the country, police officers risk their lives every day to protect their communities, and they deserve our gratitude, and giving police custom challenge coins will help you show them how much you appreciate and care about what they do. GS-JJ.com provides free design service on which you can customize your exclusive patron saint and thank you text, which will not only express your appreciation and respect for him/her, but also that they will really enjoy and use your gift. For all your police officer gift needs, whether it's a graduation, promotion, birthday, retirement, or thank-you gift, GS-JJ got everything
Who do you think killed Shannon? Do you think it's Lonnie? Tell us in the comments!